Accessorising an outfit is a skill that, if mastered, can make any drab outfit POP. When it comes to accessories, what most girls seem to forget is that choosing functionality over plain aesthetics is of utmost importance, because apart from working as an aide to your outfit, the accessories you choose must help you go about your day-to-day experiences and jobs.
Following are a few essentials for your wardrobe, keeping in mind a hectic schedule and lots of places to be:
Top 15 fashion accessories for a working woman's wardrobe
1. The "utility belt"
In early times, a belt was a man's accessory to hold But fashion is changing, with the arrival of conspicuous ideas for a woman's fashion. With its rapid growth, a belt became a fashion icon in modern times. It became essential for working woman to have a utility belt to carry all essentials at one go.
2. The Tote bag
Modern fashion saw the advent of new trending bags. Frustrated with your zipped bags that involves opening zip at every second, then tote bag is the solution. Tote bags are easy to carry, and you can fill it with the necessary things. It can carry a laptop, a diary, a pouch, a water bottle, a make-up, and what else you think comfortably.
3. The Fanny Pack (for when you don't need to carry as much)
Fanny packs are also called waist bag or moon bag. They do not take much of your space and can go with different attires. Many people who avoid carrying big bags have switched to these fanny packs and have found them convenient. They help you store all your important documents and cash in much less space as compared to the big totes.
4. A watch
Watch is an elegant accessory. In modern times, people have lost the old art of buying watches to look at the time. Globalization has provided a substitute for these watches. It is a cell phone. Nowadays people rarely feel the need to have a wrist watch but having a wristwatch on your hand is an art that should not be something long lost. It adds a certain elegance to your personality. The clock ticking on your wrist even makes you value time.
5. A pair of sturdy pumps
A pair of sturdy plumps is something that you must definitely own. It undoubtedly goes with all your outfits. It adds a bit of grace to any formal outfit that you have decided to wear. Many fashion influencers suggest that women and especially working women should own at least a black pair of plumps which is not a pomp and show kind of thing but a signature classic that makes you stand apart.
6. Shoes
It is a fact that heels cannot be worn daily. There may come some days where one might feel the urge to be in something formal yet comfortable. A formal pair of shoes in colors that go with most of your outfits should be something every working women must own. They help you to walk comfortably. While one is on periods it is advised by doctors to switch to a pair of good shoes as it avoids back ache which is a very common problem that most women complain about during their periods and wearing heels can trigger it.
7. A chic laptop bag
Instead of rushing to your office with a laptop in your hand and looking like a mess, it is better to have a laptop bag. It is an efficient way to store a laptop. It keeps the laptop safe from scratches and other issues that one may face. It gives extra protection to your laptop and adds glam to your normal office look. It makes you look more professional.
8. A portable cosmetics holder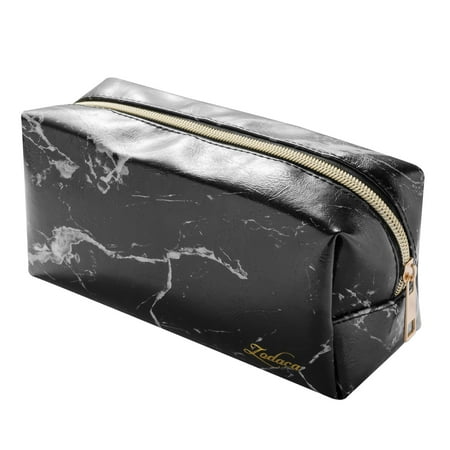 Have a meeting in five minutes? Have to meet a friend or boyfriend after a tiring day? You don't want to meet them with a sweaty and greased faces. Then a portable cosmetic holder is a must. These fleeting emergencies can come unexpectedly and leave you panting for air. You can easily store all your makeup products in one small pouch and this pouch can literally be a game changer for you in situations where your glam and presentable look is a must.
9. A portable charger
Our lives are entangled with technology, especially with mobiles and laptops. It would be wrong to deny their importance, as most of our work depends on these electronic gadgets. It would be horrifying if your laptop's battery drained while you are engrossed in important work with no charging outlet nearby. Hence, it is necessary to keep a 'charged portable charger' with you.
10. A cool pair of headphones
Headphones are yet another essential thing that you must own. You can plug them whenever the noise in the background is distracting you. You can even listen to music whenever you get some free time. This can really be a mood changer for you in a working space which is very formal.
11. A coat/blazer
Long coats are a style statement. They help you to look classy and style apart from the rest of the crowd. Blazers give you a more sophisticated formal look which is the perfect style statement for any workplace. In many big companies meetings are only carried forward if everyone is dressed properly or suited. These long coats can go with formal skirts, pants and even jeans sometimes. They add a lot more to your otherwise simple look.
12. An elegant scarf that could go with most outfits
A scarf completes an outfit. It adds a professional touch to it and improves its aesthetic attributes. It is not mandatory to wear and completely depends on wearer's choice. It is perfectly suited for winter outfits as one can pair with long coats and sweaters.
13. A handy-dandy wallet
A perfect compartmentalized wallet is another necessary that one should definitely have. A wallet should be neatly organized and it should include all the necessary cards, money, etc.
14. Minimal, statement jewellery
It is a often heard statement that jewelry is a girl's best friend and this is something that is undoubtedly true. Your looks can be enhanced with some dazzling jewelry. Wearing earrings, rings, watch accessories, bands can definitely make you feel good about yourself. It can add a certain essence to your everyday look.
15. An umbrella
Nobody wishes to get drenched on a working day. It will not only lead to embarrassment in front of your colleagues but will leave you with a sense of low self-esteem. It is better to have an umbrella with you to avoid circumstances like these. It is better to carry an umbrella than to be sorry later on.
This article enlists the top fifteen things that are essential for working women. This article solves the problem of continuous worrying that working women often encounter ranging from their styling to their normal office routine.